Birmingham Wedding Band Use Fender & RCF Equipment
One of the Birmingham's finest wedding bands Apollo Live have recently released details of their equipment rider and preferred providers. Apollo Soul perform around 120 shows annually and are the choice for hundreds of companies and private clients across the country.
With the huge physical demand placed on their equipment, its important that the band has a tried and tested set-up that proves reliable when going from show to show. Over the course of the last five years the band have carefully refined their equipment setup and now use a select array of equipment suppliers for their live shows.
Front of House PA Systems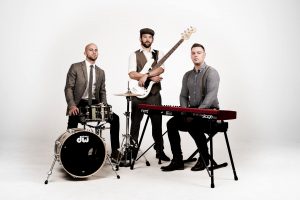 All the Apollo bands use RCF front of house loudspeakers. The team have found RCF to be extremely reliable and very versatile for a selection of different live applications. For wedding entertainment, the band will usually use two RCF 745's, these speakers provide an incredible sound through just two 15-inch speakers with 4-inch tweeters. The bass response is wonderful and not overbearing making it perfect for wedding venues with sound limiters.
When the band move onto bigger corporate shows, they add two 18inch RCF 8003 subwoofers which add a full spectrum of low end. This rig has proved powerful enough to entertainment up to 5-600 people and it comes highly recommended.
For wedding venues and installs, Apollo live rely on Bose sound systems, in particular the Bose L1 Model II system. They have found this to be the best system for long throw sound distribution, which is perfect in hotels where rooms will generally have complex room layouts.
Drums
Apollo Soul and the other Apollo bands use a selection of different drum manufactures, ranging from Yamaha, Natal & Pearl. Apollo Souls' drummer James Burgess uses both Yamaha and Ludwig drums. The Yamaha Maple custom is perfect for delivering a punchy backbone to the band. James's Yamaha kit comes in cherry red colour and looks extremely impressive when setup alongside the bands equipment
Guitars
Apollo Live's guitarists use an array of world leading guitars ranging from Fender, Takamine, Ernie ball and many more. For amplification our team use a combination of fender amplifiers and Laney amps. These amps have been carefully configured so that they are able to deliver the sonic integrity of the music wedding guests want to here.
Keyboards.
With the Apollo bands relying so heavily on keyboards, its important that our boards have a superb array of sounds that cover the genres the band perform. For piano's the Apollo team tend to use the Roland RD range which have an incredibly rich and authentic piano sound. For the more digital sound effects and classic synthesizer patches, the team like to use Yamaha Motif's. The Motifs house some of the most renowned sounds from the classic songs that guests love to hear at weddings and corporate events. By using a combination of these keyboards, the bands are able to deliver a show that exhilarates guests keeping them on the dance floor for the entire evening.
Visit our site to see more on what equipment each wedding band uses at https://apollolive.co.uk